Cleveland, OH – The first time Dan Eleff ever threw a baseball in his life was yesterday afternoon, just hours before throwing out the ceremonial first pitch at the final World Series game played last night in Cleveland.
A diehard Cleveland Indians fan, Eleff, founder of the popular Dans Deals site that offers tips and deals on credit cards, mileage and other items, confessed that typically, he is a spectator, not a participant when it comes to sports. But when he saw a Starwood promotional offer auctioning off the right to throw out the first pitch in Game 7 for Starwoods points, Eleff, who said that he accumulates points faster than he can spend them, knew that he had to take action.

"I've gone to hundreds of Indians games and all of the playoff games since 1995," Eleff told VIN News. "When I saw the auction come up, it seemed like divine intervention."
The idea that he could take part in a rare Game 7 with his favorite team using points was an opportunity that was too tempting to pass up.
"I have, thank G-d, a lot of points," said Eleff a Cleveland resident. "I have been doing this for a long time and it just felt right."
Eleff submitted his bid for the auction, bidding higher each time he was outbid, until suddenly, the auction ended.
"I didn't get an email telling me I had won right away," said Eleff. "But I looked at the highest bid and realized I had won. I was beyond words. I was ecstatic."
Eleff placed his winning bid of 1,060, 500 points, approximately half of his total Starwoods points, at 11:12 AM and with his win, found himself faced with a serious dilemma – being able to get the ball across home plate.
"I'm not an athlete by any stretch of the imagination and had never thrown a baseball before yesterday," admitted the 31 year old Eleff. "I practiced yesterday and, at first, the ball was all over the place but I got the hang of it."


Eleff, a fifth generation Clevelander on both his mother's and father's sides of the family who grew up on a steady diet of Indians baseball, went to Progressive Field with his wife Mimi, his brother JJ and his grandfather, Ted Cohn. The four spent about 15 minutes on the field before the game speaking with Indians manager Terry Francona and soaking up the off the charts excitement of the winner-takes-all-game.
Standing in front of the pitcher's mound was a surreal experience for Eleff, who tossed out the ceremonial first pitch with his tzitzis flying. Eleff said he never once considered tucking in his tzitzis and his yarmulka was clearly visible when he took off his Indians cap to wave at spectators after he threw out the ball, which bounced once before landing neatly in the catcher's glove.
"It was an unbelievable moment," said Eleff, who celebrated his eighth wedding anniversary together with his wife last night. "It couldn't have been more special."
The game itself was a true nail biter, with Cleveland ultimately losing to the Chicago Cubs by a score of 8 to 7 in ten innings.
"The fact that they lost doesn't take away from the experience," said Eleff. "It would have been the cherry on top if they had won but it was a fantastic experience."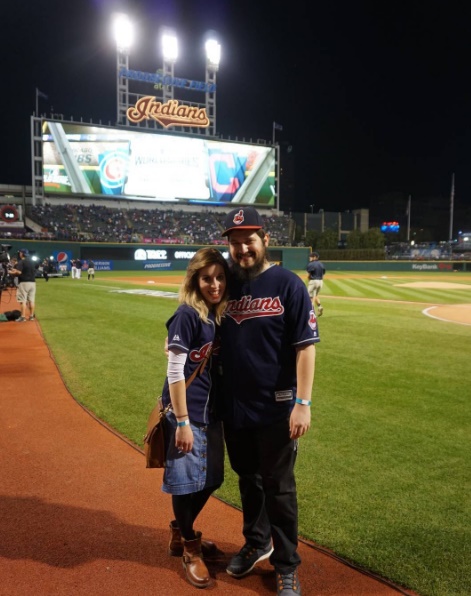 JJ Eleff, who joined his brother Dan on the field, said that he looked forward to sharing the experience with his grandchildren one day, just as he grew up hearing his own grandfather talking about his World Series games he attended in 1948 and 1954.
"Even though the Indians lost I got to have the experience of a lifetime in what will go down in history as one of the best World Series games of all time," said JJ Eleff.
His World Series appearance marks the second time that Eleff used points to get on the field during a major league game. In May 2013, he used 25,000 United mileage points to score four field box seats and the right to steal second base during a game between the Indians and the New York Yankees. At the time, Eleff described the experience as "my coolest use of miles ever."
With the Cubs ending their 108 year streak since their last World Series win, the Indians now have the dubious honor of holding the record for the longest stretch since they last won the fall classic in 1948.
"There's always next year," said Eleff, optimistically. "Hopefully they will win in 2017."