JERUSALEM (VINnews) — Two demonstrations took place in Israel Saturday night. In Tel Aviv, some ten thousand people gathered to protest government inaction in providing aid to small businesses and the entertainment and tourism industries. The demonstrators more masks in accordance with public health regulations but did not maintain social distance as required. Despite this police did not intervene at any stage to enforce the regulations and in general acted with restraint towards demonstrators despite the open flaunting of the health regulations. After a number of anarchists started rioting, police allowed them to block roads for two hours before using minimal force to disperse the rioters.
The demonstration in Jerusalem on the other hand was dispersed immediately with police showing no tolerance for any closure of roads and using excessive force on demonstrators, who happened to be Chareidi. The demonstrators were complaining about the apparently irrational government decisions to close Chareidi neighborhoods with high infection rates instead of removing all the sick people to external facilities.
MK Shlomo Kari (Likud) submitted a petition to the Knesset demanding an emergency discussion of the discrimination between the two different demonstrations and the brutality employed towards the Chareidi community in general. Interestingly, Kari himself is not a member of the Chareidi community.
Kari wrote that "over all the months of the coronavirus crisis, we see the most selective, ruthless and harsh enforcement towards the Chareidi community. The Knesset has discussed specific cases in its committees but the situation is unfortunately escalating. After the harsh scenes repeated themselves yesterday, we are obligated to raise the matter on our agenda and to fight this intolerable situation."
אלימות קשה כנגד המפגינים הערב בירושלים שוטר יס"מ נותן אגרוף לחרדי ולבסוף נעצר. צילום: ישי ירושלמי pic.twitter.com/4R2ZOJtxZK

— משה ויסברג (@moshe_nayes) July 11, 2020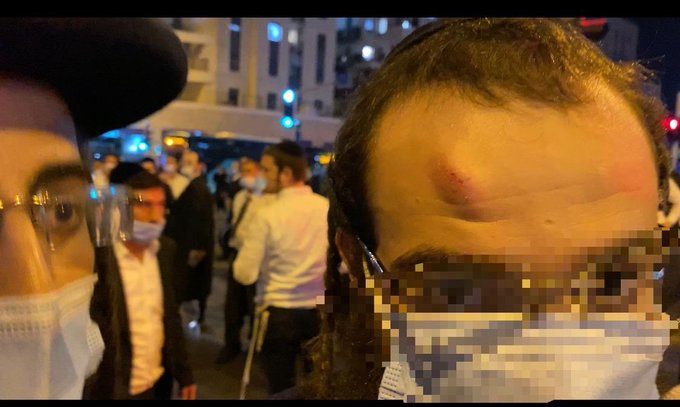 When this demonstrator asked a policeman why he wasn't wearing a mask, the policeman punched him in the face, causing the contusion. The demonstrator was arrested
Ironically the Chareidim are being exceeding careful to maintain health regulations after the trauma of mass infections during the first wave of the coronavirus. The following clip shows Karlin Chasidim in Tiberias praying outdoors and maintaining strict social distancing:
קידוש השם! בית הכנסת של חסידות קרלין בעיר טבריה נעל את שעריו ומתפללים בשטח פתוח, תוך הקפדה מלאה על עטיית מסכה ושמירה של 2 מטרים. pic.twitter.com/xQI4OwYgBZ

— ישראל כהן (@Israelcohen911) July 10, 2020