NEW YORK (VINnews) — A Utah BLM activist who faces criminal charges in connection with a Provo protest he organized in June claims he attended the pro-Trump rally which turned into a violent attack on the U.S. Capitol in order to see "the truth" about the protests for himself and the organization he represents.
"For me, it's important from the group and the people around me to see that side of things, to see the truth," John Sullivan said Wednesday night. "I don't care, like what side you're on, you should just see it raw."
However footage from the video he posted to his social media sites belied his assertion that he was "only filming" and did not participate in the action, since he can be heard in the video encouraging people to join them as they push their way through police barricades.
Sullivan is a prominent left-wing activist and founder of Insurgence USA, a social justice group that calls itself anti-fascist and protests police brutality. He also claimed that his presence at the rally was intended to "support the Black community"  adding that it was "important to understand" those who were protesting in support of President Donald Trump.
Just after people broke into the building, Sullivan — wearing a gas mask and wielding an iPhone on a stabilizing stick — and a woman who said Wednesday that she was making a documentary on Sullivan, are on the first porch area outside the entrance looking back over the throngs of people around the Capitol. They can be heard encouraging people to climb the wall, saying, "Come on. Let's go!" as well as other statements in favor of the protesters storming the Capitol.
Sullivan denied Friday having encouraged people to engage in violence or vandalism but he was at the forefront of the mob which entered the capitol and said he had video footage of the shooting of Ashli Babbit, the protester who tried to enter the chambers and was fatally shot, which he described in detail:
"There was a glass wall, and she, the woman, was the first person to actually try to get inside. All you see is hands come out the doorways with their guns. … You don't see their face, nothing. And I literally yell at everybody else, 'There's a gun! There's a gun! Don't go in there!' And a shot goes off. And she gets shot as soon as she goes through," Sullivan recalled.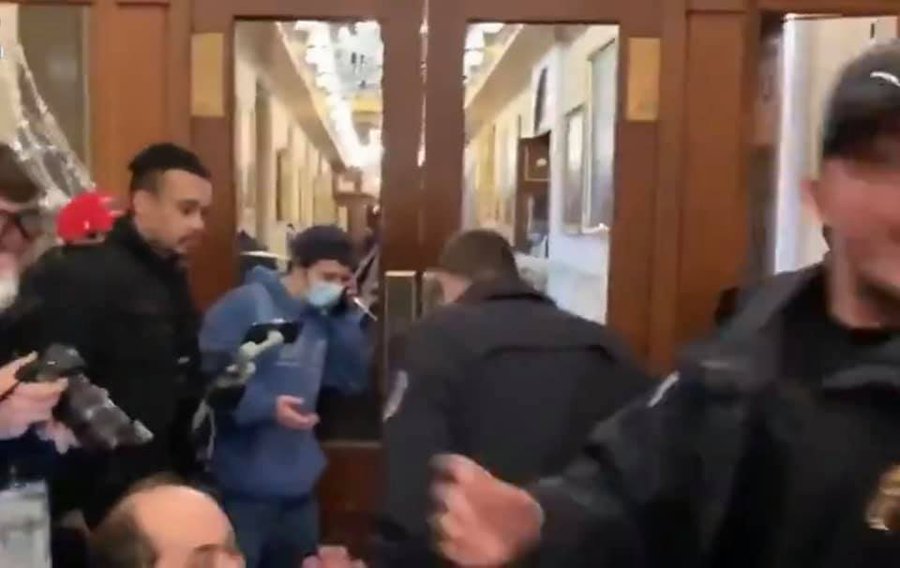 Sullivan outside chambers at scene of shooting
In August, John Sullivan threatened to "rip President Trump from the White House" during violence in Washington DC. Sullivan was specially flown to DC to participate in the protests.
This is John Sullivan from Salt Lake CityUtah and BLM activist, addressing his Insurgence USA supporters in August 2020⬇️ pic.twitter.com/BITvHb0UZJ

— Eduardo G. (@OrbitaEduardo) January 7, 2021
At the time John Sullivan was described as a Black Lives Matter leader from Utah.
Follow VosIzNeias For Breaking News Updates