JERUSALEM (VINnews) — For the first time in a year, many chasidic groups conducted a  Tish (table gathering) honoring Purim. The tishes took place in Jerusalem Sunday, which was the main day of celebration in Jerusalem, while in other parts of Israel they took place Friday.
One of the main tishes with thousands of chasidim took place with the Gerer Rebbe, who has strictly ordered all of his chasidim who have not suffered from coronavirus to vaccinate. This was the first tish in a year for Gerer chasidim with their rebbe.
Main tish at Gerer center in Jerusalem
On the previous night a tish took place for the chasidim of Rabbi Shaul Alter, who also marked the yarhzeit of his father, the Pnei Menachem.
שמחת פורים בחצר רה"י מגור רבי שאול אלתר בשילוב טיש יארצייט לאביו הרבי הפני מנחם זיע"א בהשתתפות הגרמ"מ שפרן וכמעט כל נכדי מרן הפני מנחם זיע"א pic.twitter.com/xe42qK8cAW

— תורה מיט חסידות (@8796abcd) February 28, 2021
Rabbi Shaul Alter conducts tish commemorating Pnei Menachem
Boyan Chasidim also celebrated Purim with a large tish
טיש פורים בבאיאן. pic.twitter.com/woaXyO5rAc

— שימי שפר (@Shimishafer) February 28, 2021
Boyan chasidim at central gathering
Some migrant workers also attempted to emulate the Vizhnitz tish
https://twitter.com/simcha_blotnik/status/1363868082159185920
Another unusual Purim picture was seen at Kever Rachel on Friday, where Rabbi Kalman Greenwald, a Rachamstrivka chasid, read the megilla for a Border Police woman who is stationed at the site.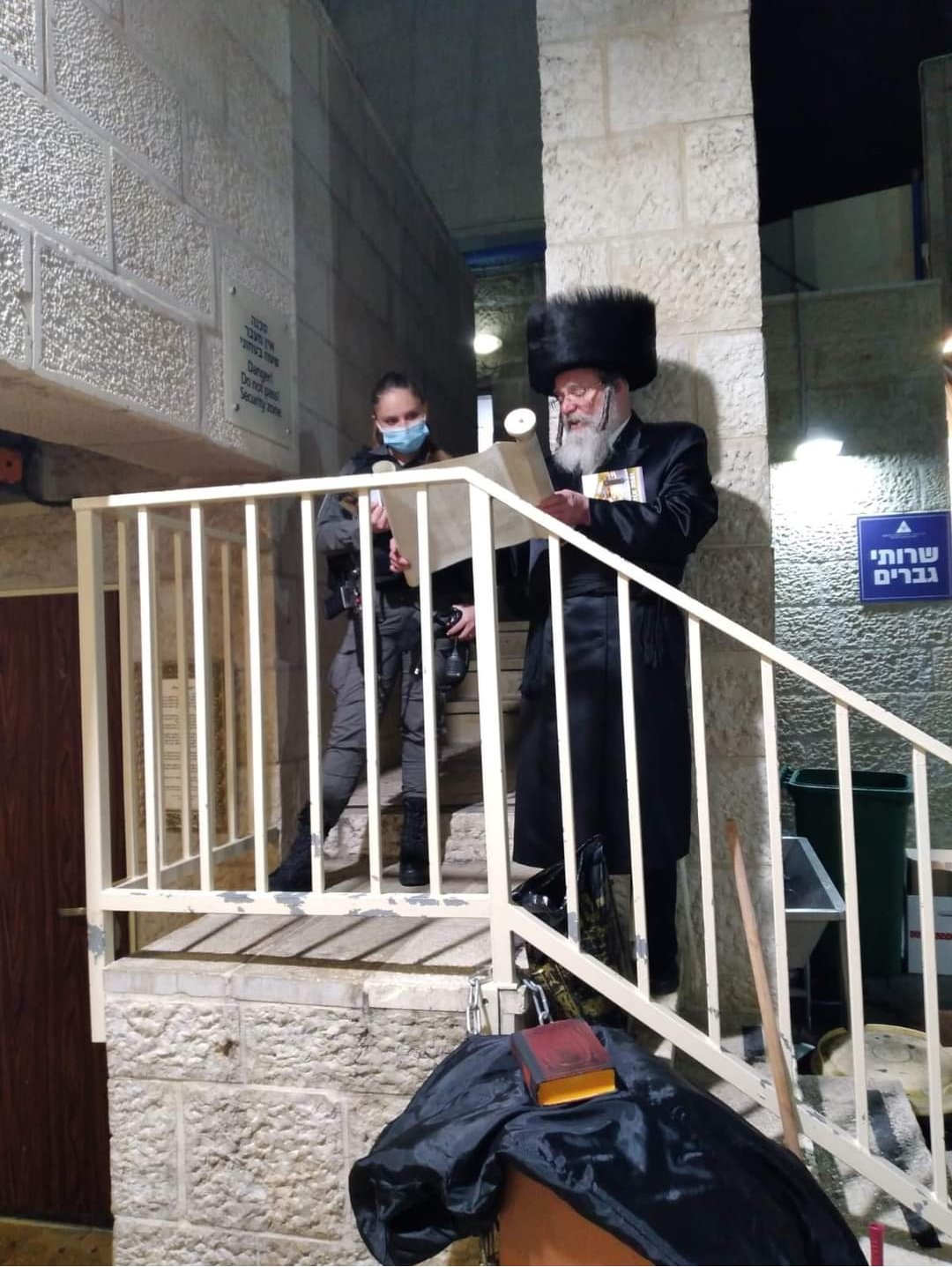 Follow VosIzNeias For Breaking News Updates